Hockey Operations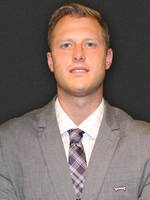 Jeff Carr
Head Coach
Phone:
865-525-7825
E-mail:
Jeff is a native of Eagle River, Wisconsin - home of the Wisconsin Hockey Hall of Fame. He is also a graduate of the university of Minnesota-Crookston.
Coach Carr played hockey with the St. Paul Lakers and the Wisconsin Mustangs (now the Wisconsin Wilderness of the SIJHL). After his playing career, Jeff went straight into coaching, taking an assistant job for the D.C. Everest boys varsity team. In 2012 he began coaching the Salt Lake City Moose as an assistant before taking an interim head coaching position. He was promoted to full-time head coach and lead the Moose for the following two seasons. In 2015 he became the Associate Head Coach for the Ogden Mustangs. The following summer, he was named the Head Coach of the Minnesota Elite Prep Development League, Team Northwest. Last year, he was named the Assistant Coach of the Anaheim Ducks' ECHL affiliate Utah Grizzlies. All told, Jeff ammased an impressive 129-70-17 record as a coach before coming to Knoxville.
Jeff is an accomplished recruiter who prides himself on developing teams with tireless work ethics and incredible dedication to the local community. He is excited to take over as the Ice Bears' 6th head coach and lead Knoxville in their search for a 5th franchise title!
Hear more from Coach Carr here
The Knoxville Ice Bears organization began in 2002 and was an inaugural charter member of the Southern Professional Hockey League (SPHL) in 2004. As four-time SPHL Champions, the Ice Bears are an experienced and established organization, offering the city and its visitors a balanced product of highlight-reel hockey, unique and exciting intermission activity and endless fan interaction, presenting the most affordable, family-friendly way to enjoy sports and entertainment.