For immediate release
For more information, contact: Joel Silverberg, Director of Broadcasting (865) 525-7825, joel@knoxvilleicebears.com.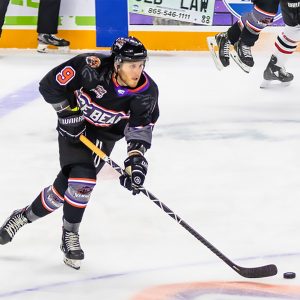 The Southern Professional Hockey League has announced Ice Bears forward Dino Balsamo as the Warrior Hockey / SPHL Player of the Week for December 20-26.
Balsamo had a three-point outing in Knoxville's 3-2 win over Roanoke Sunday afternoon. Balsamo assisted on Andrew Bellant's goal in the first period and scored off a redirect from Luke Erickson to tie the game in the second period.
After a scoreless overtime, Knoxville fell behind 2-1 in the seventh round of the shootout when Balsamo scored on his attempt to force an eighth round. Following a save by Kristian Stead, Balsamo beat Austyn Roudebush for the second attempt in a row to help the Ice Bears to their second straight win.
With fans like ours, it's hard to beat this crowd noise.

Dino Balsamo's shootout game-winner from last night!

Thank you, Knoxville, for being the best fans in the SPHL! pic.twitter.com/73EFQYZ9Dk

— Knoxville Ice Bears (@icebears) December 27, 2021
Balsamo leads Knoxville with 23 points this season after joining the Ice Bears in October via a trade with Macon. He has ten points in six games during the month of December thus far.
He's the third Ice Bear to receive the honor this season, joining forward Anthony McVeigh and goaltender Jimmy Poreda.
ABOUT The Knoxville Ice Bears: The Knoxville Ice Bears organization began in 2002 and was an inaugural charter member of the Southern Professional Hockey League (SPHL) in 2004. As four-time SPHL Champions, the Ice Bears are an experienced and established organization, offering the city and its visitors a balanced product of highlight-reel hockey, unique and exciting intermission activity and endless fan interaction, presenting the most affordable, family-friendly way to enjoy sports and entertainment. Season, Partial Season and Flex Tickets are now on sale. For more information, visit www.knoxvilleicebears.com or call (865) 525-7825.
-xxx-