For immediate release
For more information, contact: Joel Silverberg, Director of Broadcasting (865) 525-7825,  joel@knoxvilleicebears.com.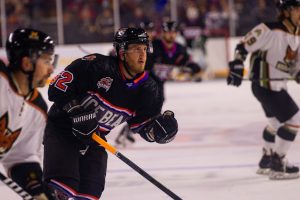 Dino Balsamo scored a hat trick and the Knoxville Ice Bears defeated the Vermilion County Bobcats 9-3 Friday night at the Civic Coliseum.
It was Knoxville's third win in a row. The Ice Bears (8-2-1) have scored 27 goals in their last four games. The Bobcats (0-9) scored three unanswered goals in the third period after falling behind 8-0.
Anthony McVeigh intercepted a clearing attempt at the right wall in the Vermilion County zone. He quickly dished the puck to Balsamo, who was wide open in front of the crease. Balsamo put the puck past Corbin Kaczperski at 1:23 of the first to open the scoring.
Sam Turner skated into the zone and weaved his way between two defenders before finishing off the play for his second goal of the year at 6:08. J.B. Baker scored from the right circle less than a minute later to make it 3-0.
Razmuz Waxin-Engback scored from the left end line after Baker found him from the opposite point. Waxin-Engback's backdoor shot slipped past Kaczperski to make it 4-0 just 9:40 into the game and end Kaczperski's night. Kaczperski made three saves on seven shots against and was replaced by Thomas Proudlock.
Balsamo capped off the hat trick with two more goals in the second period. He scored at 1:49 from the right circle and completed the hat trick with a rebound at 9:24.
Stefan Brucato scored his sixth of the season off a one-timer in the slot. Waxin-Engback found him from the right circle and Brucato's shot beat Proudlock to make it 7-0 heading into the second intermission.
After Steven Leonard scored his first SPHL goal 31 seconds into the third, Adam Vannelli, Egor Borshchev and Mitch Atkins all scored for the Bobcats to cut the lead to 8-3. Stepan Timofeyev beat Proudlock five-hole with 51 seconds left to cap off the scoring. Proudlock finished with 23 saves.
Kristian Stead made 23 saves for Knoxville for his third win of the season.
The two teams will head to Danville to complete the second half of a home-and-home series. Puck drop is set for 8 o'clock EST.
ABOUT The Knoxville Ice Bears: The Knoxville Ice Bears organization began in 2002 and was an inaugural charter member of the Southern Professional Hockey League (SPHL) in 2004. As four-time SPHL Champions, the Ice Bears are an experienced and established organization, offering the city and its' visitors a balanced product of highlight-reel hockey, unique and exciting intermission activity and endless fan interaction, presenting the most affordable, family-friendly way to enjoy sports and entertainment. Season, Partial Season and Flex Tickets are now on sale.  For more information, visit www.knoxvilleicebears.com or call (865) 525-7825.
-xxx-