For immediate release
For more information, contact: Joel Silverberg, Director of Broadcasting (865) 525-7825,  joel@knoxvilleicebears.com.
The Knoxville Ice Bears have signed goalie Brent Moran to a PTO for the team's upcoming preseason camp in October. Moran comes to Knoxville after a season in Norway with Manglerud Star of Eliteserien following three seasons with Nipissing University in Ontario.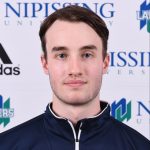 "He's the pro build. He's 6-4 with a ton of major junior experience," said Ice Bears head coach Jeff Carr. "He's been to three NHL development camps. He's got pedigree and size. He's hungry and wants to come down and take the No. 1 job."
Prior to his collegiate career, Moran played 193 games in the OHL over five seasons. The Orleans, Ont. native was named to Canada's U18 team at the 2014 World Junior Championships and was drafted by the Dallas Stars in the fourth round of the NHL Draft that same year.
"He has a controlled game," said Carr. "When shooters don't have options, he comes out and challenges them."
ABOUT The Knoxville Ice Bears: The Knoxville Ice Bears organization began in 2002 and was an inaugural charter member of the Southern Professional Hockey League (SPHL) in 2004. As four-time SPHL Champions, the Ice Bears are an experienced and established organization, offering the city and its' visitors a balanced product of highlight-reel hockey, unique and exciting intermission activity and endless fan interaction, presenting the most affordable, family-friendly way to enjoy sports and entertainment. Season, Partial Season and Flex Tickets are now on sale.  For more information, visit www.knoxvilleicebears.com or call (865) 525-7825.
-xxx-