For immediate release
For more information, contact: Joel Silverberg, Director of Broadcasting (865) 525-7825,  joel@knoxvilleicebears.com.
The Knoxville Ice Bears have signed forward Andrew Bellant to a PTO for the team's preseason camp in October. The Linden, Michigan native comes to Knoxville following a three-year college career.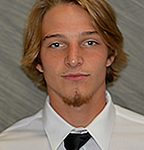 After spending his junior career in the NAHL, Bellant attended Division I Michigan Tech for his freshman season. He then transferred to Division III powerhouse Adrian College for the past two seasons. He totaled 31 goals and 34 assists for 65 points along with 106 penalty minutes in 49 career games for the Bulldogs.
Adrain was a top five team in the country, but the Division III ice hockey tournament was not contested during either of Bellant's two seasons with the school due to the COVID-19 pandemic.
Last season, Bellant finished tied for second in the NCHA conference in scoring with 14 goals and 13 assists for 27 points. He was third in the league in scoring the previous season.
Knoxville will host its free agent showcase September 24-25. Signed players will report to preseason camp in October. The Ice Bears begin their 20th season on Friday, October 15 at the Civic Coliseum.
ABOUT The Knoxville Ice Bears: The Knoxville Ice Bears organization began in 2002 and was an inaugural charter member of the Southern Professional Hockey League (SPHL) in 2004. As four-time SPHL Champions, the Ice Bears are an experienced and established organization, offering the city and its' visitors a balanced product of highlight-reel hockey, unique and exciting intermission activity and endless fan interaction, presenting the most affordable, family-friendly way to enjoy sports and entertainment. Season, Partial Season and Flex Tickets are now on sale.  For more information, visit www.knoxvilleicebears.com or call (865) 525-7825.
-xxx-