For immediate release
For more information, contact: Joel Silverberg, Director of Broadcasting (865) 525-7825,  joel@knoxvilleicebears.com.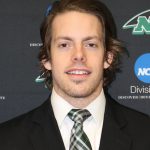 The Knoxville Ice Bears have signed defenseman Cody Rodgers to a PTO for training camp beginning this week. Rodgers was a participant in Knoxville's Free Agent Showcase at the end of September.
"Cody was a guy who we thought did enough out of free agent camp," said Head Coach Jeff Carr on the Knoxville Ice Bears Podcast. "He's been around the block. He's in great shape and he really wants to make this team."
When asked what stood out about Rodgers' game during free agent camp, Carr highlighted Rodgers' steadiness on the back end.
"Not really anything [stood out]. That's why we liked him," said Carr. "He wasn't making mistakes. He was simple. He was squeezing guys off at the blue line. He kept his game simple and he didn't chase. He was a top three or four guy in all of the physical testing. I think that stability is something we're going to look for."
Rodgers played collegiately at Division III Nichols where he was a teammate of former Ice Bear Scott Cuthrell and fellow signee J.B. Baker.
Knoxville will begin training camp this week. The Ice Bears will open their 20th season on Friday, October 15 at the Civic Coliseum.
ABOUT The Knoxville Ice Bears: The Knoxville Ice Bears organization began in 2002 and was an inaugural charter member of the Southern Professional Hockey League (SPHL) in 2004. As four-time SPHL Champions, the Ice Bears are an experienced and established organization, offering the city and its' visitors a balanced product of highlight-reel hockey, unique and exciting intermission activity and endless fan interaction, presenting the most affordable, family-friendly way to enjoy sports and entertainment. Season, Partial Season and Flex Tickets are now on sale.  For more information, visit www.knoxvilleicebears.com or call (865) 525-7825.
-xxx-