For immediate release
For more information, contact: Joel Silverberg, Director of Broadcasting (865) 525-7825,  joel@knoxvilleicebears.com.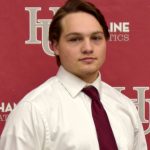 The Knoxville Ice Bears have signed forward Zak Lambrecht to the team's training camp beginning next week. Lambrecht comes to Knoxville after spending the past three seasons at Hamline University in Minnesota.
"Zak is an undersized guy who makes up for it with elite skating," said Ice Bears Head Coach Jeff Carr. "We're going to let him do his job to the best of his ability."
Lambrecht transferred to Division III Hamline after spending a season with Concordia College. Last season Hamline was limited to just six games due to multiple postponements and cancellations throughout the year. Lambrecht had five points in those six games for the Pipers.
He was a point-per-game player in his final junior season in Ontario, putting up 59 points in 54 games for the Blind River Beavers in the NOJHL in the regular season before tallying 17 points in 16 playoff games.
Players will report next week for training camp, which will begin October 7. The Ice Bears will begin their 20th season on Friday, October 15 at the Civic Coliseum.
ABOUT The Knoxville Ice Bears: The Knoxville Ice Bears organization began in 2002 and was an inaugural charter member of the Southern Professional Hockey League (SPHL) in 2004. As four-time SPHL Champions, the Ice Bears are an experienced and established organization, offering the city and its' visitors a balanced product of highlight-reel hockey, unique and exciting intermission activity and endless fan interaction, presenting the most affordable, family-friendly way to enjoy sports and entertainment. Season, Partial Season and Flex Tickets are now on sale.  For more information, visit www.knoxvilleicebears.com or call (865) 525-7825.
-xxx-