For immediate release
For more information, contact: Joel Silverberg, Director of Broadcasting (865) 525-7825,  joel@knoxvilleicebears.com.
The Knoxville Ice Bears have signed forward Carter Cowlthorp to the team's preseason camp in October. Cowlthorp joins the Ice Bears following his collegiate career at Division III Norwich University.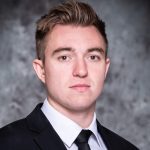 "Carter's in great shape," said Ice Bears Head Coach Jeff Carr. "While he was at Norwich, they played in the national championship game against Andrew McLean. He comes from a great program."
Norwich lost the 2019 Division III national title game to Wisconsin Stevens Point 3-2 in overtime. Cowlthorp finished his college career with 15 goals and 13 assists for 28 points in 78 career games for the Cadets. He was also a +21.
"He's probably going to play on the wing," said Carr. "He's always all over the ice. Always going to the net. He plays in a straight line through the puck."
ABOUT The Knoxville Ice Bears: The Knoxville Ice Bears organization began in 2002 and was an inaugural charter member of the Southern Professional Hockey League (SPHL) in 2004. As four-time SPHL Champions, the Ice Bears are an experienced and established organization, offering the city and its' visitors a balanced product of highlight-reel hockey, unique and exciting intermission activity and endless fan interaction, presenting the most affordable, family-friendly way to enjoy sports and entertainment. Season, Partial Season and Flex Tickets are now on sale.  For more information, visit www.knoxvilleicebears.com or call (865) 525-7825.
-xxx-