For immediate release
For more information, contact: Joel Silverberg, Director of Broadcasting (865) 525-7825, joel@knoxvilleicebears.com.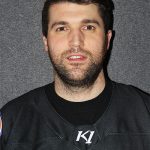 The Knoxville Ice Bears have added former player Taylor Stefishen to the front office staff as the Director of Hockey Development and Game Day Operations Manager.
Stefishen will assist the organization in its objective to promote hockey in East Tennessee at all levels and cultivate fan avidity. He will also oversee the execution of game day presentation for Ice Bears home games to make fan experience fun and family-friendly.
"I'm very excited to be able to stay a part of the organization after my playing career," Stefishen said. "I'm looking forward to working with the Ice Bears staff and engaging with the community."
A native of North Vancouver, Stefishen appeared in 14 games for the Ice Bears last season. He played 125 games in the ECHL and ten games in the AHL after being drafted by the Nashville Predators in 2008.
ABOUT The Knoxville Ice Bears: The Knoxville Ice Bears organization began in 2002 and was an inaugural charter member of the Southern Professional Hockey League (SPHL) in 2004. As four-time SPHL Champions and five-time regular season champions, the Ice Bears are an experienced and established organization, offering the city and its visitors a balanced product of highlight-reel hockey, unique and exciting intermission activity and endless fan interaction, presenting the most affordable, family-friendly way to enjoy sports and entertainment. Season, Partial Season and Flex Tickets are now on sale. For more information, visit www.knoxvilleicebears.com or call (865) 525-7825.
-xxx-