For immediate release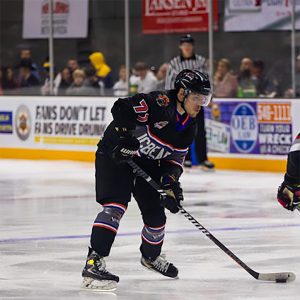 For more information, contact: Joel Silverberg, Director of Broadcasting (865) 525-7825,  joel@knoxvilleicebears.com.
Nigel Slade scored at 3:37 of the overtime period and Knoxville fell to the Macon Mayhem 4-3 at the Macon Centreplex Saturday night.
The loss snapped an eight game win streak for the Ice Bears (21-3-3). Macon (5-20-2) now has points in its last three games.
After tying the game with a one-timer in front of the crease at 11:22 of the third, Slade added the game-winner when Kyle Soper found him in transition at close range after drawing Evan Moyse out of the crease. Slade tapped in the puck for his fourth goal of the season.
J.B. Baker scored his 16th goal of the season with a rebound on the power play at 9:12 of the first. Jason Price shot the puck from the high slot with Stefan Brucato screening on the right side of the crease. Brucato's redirect was initially stopped by Gregg Hussey before the puck bounced to the near side of the crease and Baker cleaned it up to give Knoxville the lead at the first intermission.
Razmuz Waxin-Engback extended the lead for Knoxville at 10:05 of the second. Brucato fed him the puck through the left circle and he skated into the high slot before ripping a snap shot over Hussey for his 11th goal of the season.
Macon tied the game with back-to-back goals in the final minute and a half of the second period. Zak Lambrecht scored on a rebound and Caleb Cameron redirected a Kyle Soper shot past Moyse with four second left in the period to make it 2-2 when the teams hit the dressing room.
Waxin-Engback scored on a rebound in front at 5:31 of the third to put Knoxville ahead 3-2. Baker's shot from the left circle was stopped in front and Brucato had the first attempt at it before Waxin-Engback came in and put it behind Hussey.
The Ice Bears return home to complete a three-game weekend against the Evansville Thunderbolts Sunday at 5 p.m. back at the Knoxville Civic Coliseum. Macon will head to Birmingham to take on the Bulls in Pelham on Friday.
ABOUT The Knoxville Ice Bears: The Knoxville Ice Bears organization began in 2002 and was an inaugural charter member of the Southern Professional Hockey League (SPHL) in 2004. As four-time SPHL Champions, the Ice Bears are an experienced and established organization, offering the city and its' visitors a balanced product of highlight-reel hockey, unique and exciting intermission activity and endless fan interaction, presenting the most affordable, family-friendly way to enjoy sports and entertainment. Season, Partial Season and Flex Tickets are now on sale.  For more information, visit www.knoxvilleicebears.com or call (865) 525-7825.
-xxx-