For immediate release
For more information, contact: Joel Silverberg, Director of Broadcasting (865) 525-7825,  joel@knoxvilleicebears.com.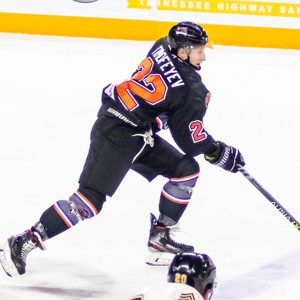 The Knoxville Ice Bears suffered their second loss of the season Sunday afternoon with a 3-1 loss to the Fayetteville Marksmen at Crown Coliseum in North Carolina. Stepan Timofeyev scored the lone goal for the Ice Bears (5-2-0), who had a two game win streak snapped. Knoxville took two of the games from the Marksmen (5-2-0) on the weekend.
Fayetteville scored first on a rebound by Sam Stormoen just 1:45 into the game. Marly Quince's shot from the right wall bounced off of Jimmy Poreda's blocker before Stormoen put it back on net. The Marksmen extended the lead when Carlos Fornaris scored at 10:44 after the Ice Bears repeatedly failed to clear the puck out of the zone and Harrison Harper found Fornaris in the left circle.
Matt McNair took advantage of a J.B. Baker turnover in the Knoxville high slot and released a quick wrist shot over Poreda's glove to give the Marksmen a 3-0 lead heading into the first intermission. Poreda was replaced by Kristian Stead to begin the second period. Poreda finished with nine saves. Stead stopped all 17 shots he faced.
Knoxville had several chances to get on the board in the second period. Andrew Bellant hit the post on a shorthanded breakaway opportunity. Jason Price hit the left iron on a shot from the high slot. Carter Cowlthorp misfired on a 2-on-1 from the left circle and Jason Pawloski made a diving save in the final minute of the period to stonewall a close range one-timer by Knoxville to keep the score at 3-0 after 40.
Timofeyev ended Pawloski's shutout bid by scoring on a rebound following a shot from Colton Fletcher just 12 seconds into the third. Knoxville had two additional power plays later in the period, but were unable to convert. Pawloski finished with 26 saves for his fourth win of the season.
Knoxville stays on the road and visits Huntsville on Wednesday. Fayetteville will also be in Alabama this week when it faces Birmingham at the Pelham Civic Complex on Friday night.
ABOUT The Knoxville Ice Bears: The Knoxville Ice Bears organization began in 2002 and was an inaugural charter member of the Southern Professional Hockey League (SPHL) in 2004. As four-time SPHL Champions, the Ice Bears are an experienced and established organization, offering the city and its' visitors a balanced product of highlight-reel hockey, unique and exciting intermission activity and endless fan interaction, presenting the most affordable, family-friendly way to enjoy sports and entertainment. Season, Partial Season and Flex Tickets are now on sale.  For more information, visit www.knoxvilleicebears.com or call (865) 525-7825.
-xxx-