For immediate release
For more information, contact: Joel Silverberg, Director of Broadcasting (865) 525-7825,  joel@knoxvilleicebears.com.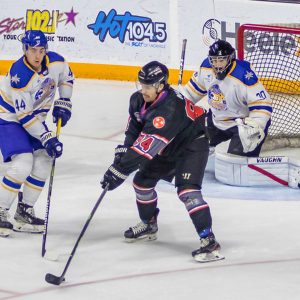 Gehrett Sargis scored two goals and the Knoxville Ice Bears fell to the Roanoke Rail Yard Dawgs 5-1 at the Berglund Center in Virginia Saturday night. The loss ties the first round series at one game apiece. Game three will be played Sunday at 5 o'clock p.m. at the Knoxville Civic Coliseum. The winner will advance to the President's Cup semifinals.
Roanoke opened the scoring early when Nick DeVito slid the puck in on a wraparound. He carried the puck behind the net and Jimmy Poreda got caught on the left post long enough for DeVito to slip it behind him at 3:44. Travis Armstrong redirected a Bryce Martin shot five minutes later to give the Rail Yard Dawgs a 2-0 lead at the first intermission.
Sargis extended Roanoke's lead by intercepting a breakout pass in the Knoxville zone and lifting it by Poreda for the only goal of the second period.
Brant Sherwood scored a shorthanded goal after bouncing the puck off Poreda from behind the goal line. Poreda was pulled in favor of Kristian Stead. Poreda made 21 saves for Knoxville. Stead stopped 10-of-11 shots.
Sargis notched his second of the night when he stole the puck behind the net and created space in front of the crease before lifting a backhand over Stead.
Jared Nash scored at 15:40 of the third to cap off the scoring and spoil the shutout. Bernard finished with 23 saves for Roanoke.
Tickets for game three are available by calling 525-7825 or visiting www.knoxvilleicebears.com.
ABOUT The Knoxville Ice Bears: The Knoxville Ice Bears organization began in 2002 and was an inaugural charter member of the Southern Professional Hockey League (SPHL) in 2004. As four-time SPHL Champions, the Ice Bears are an experienced and established organization, offering the city and its' visitors a balanced product of highlight-reel hockey, unique and exciting intermission activity and endless fan interaction, presenting the most affordable, family-friendly way to enjoy sports and entertainment. Season, Partial Season and Flex Tickets are now on sale.  For more information, visit www.knoxvilleicebears.com or call (865) 525-7825.
-xxx-