The Knoxville Ice Bears have released their full 56-game regular season schedule. The 2022-23 season will be the 21st in franchise history and the 19th in the Southern Professional Hockey League where Knoxville is a founding member since the league's formation in 2004.
The 28-game home schedule features 12 Friday games, ten Saturday games, three Thursday games and one game on a Monday, Wednesday and Sunday. 23 of Knoxville's home games will have a 7:35 p.m. Eastern Time puck drop. Five games during the holiday season will begin at 6 p.m. All start times are subject to change.
Knoxville's full promotional schedule will be released next Tuesday.
Knoxville will play nine games each against Macon and Roanoke, seven games against Huntsville, six games against Fayetteville, five games each against Birmingham and Peoria, four games each against Pensacola, Evansville and Quad City, and three games against Vermilion County.
The Ice Bears will open the regular season on Friday, October 21 against Evansville at the Knoxville Civic Coliseum. The Ice Bears will be raising a banner to commemorate their fifth William B. Coffey Trophy as last season's regular season champions. It's the ninth overall championship in franchise history. Knoxville's longest homestead begins on January 17 and lasts seven games at the Coliseum through February 10. Knoxville's longest road stretch will run December 1-17 when the Ice Bears will play six consecutive games away from home.
Season tickets are available now by calling (865) 525-7825 or by visiting www.knoxvilleicebears.com. Single-game tickets will go on sale closer to the start of the regular season. The full schedule can be seen below.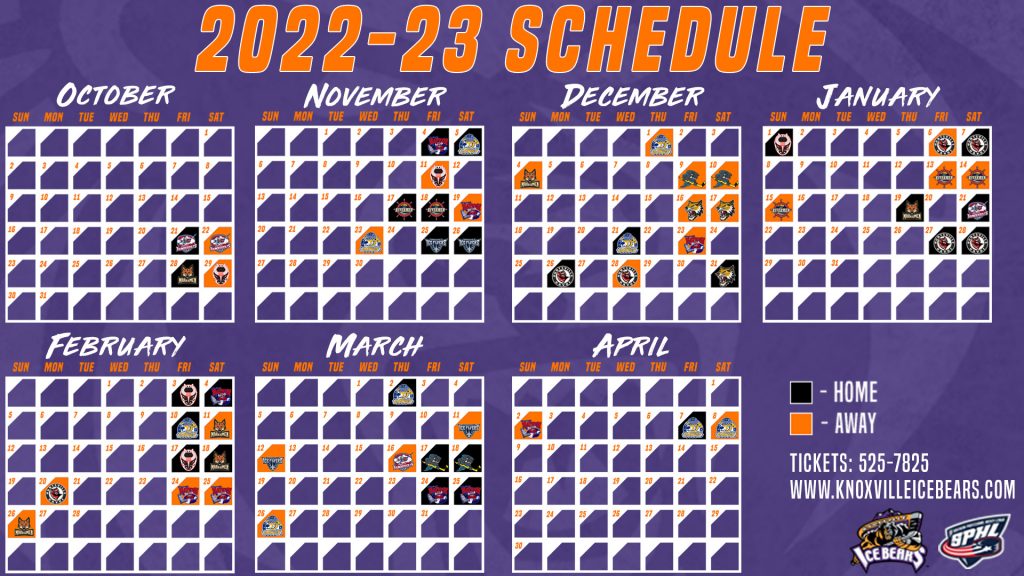 ABOUT The Knoxville Ice Bears: The Knoxville Ice Bears organization began in 2002 and was an inaugural charter member of the Southern Professional Hockey League (SPHL) in 2004. As four-time SPHL Champions and five-time regular season champions, the Ice Bears are an experienced and established organization, offering the city and its visitors a balanced product of highlight-reel hockey, unique and exciting intermission activity and endless fan interaction, presenting the most affordable, family-friendly way to enjoy sports and entertainment. Season, Partial Season and Flex Tickets are now on sale. For more information, visit www.knoxvilleicebears.com or call (865) 525-7825.
-xxx-