For immediate release
For more information, contact: Joel Silverberg, Director of Broadcasting (865) 525-7825,  joel@knoxvilleicebears.com.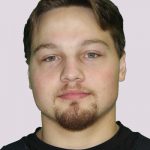 The Knoxville Ice Bears have sent forward Zak Lambrecht to Macon to fulfill complete a trade the two teams made back on October 29.
The Ice Bears originally traded defenseman Cody Rodgers and future considerations to the Mayhem for forward Dino Balsamo. Lambrecht scored two goals with one assist in 12 games for the Ice Bears this season. Balsamo has 13 points in ten games and leads the team in points per game.
The Ice Bears will play Birmingham at the Knoxville Civic Coliseum Wednesday night and again on Friday night in their only two games this week.
ABOUT The Knoxville Ice Bears: The Knoxville Ice Bears organization began in 2002 and was an inaugural charter member of the Southern Professional Hockey League (SPHL) in 2004. As four-time SPHL Champions, the Ice Bears are an experienced and established organization, offering the city and its' visitors a balanced product of highlight-reel hockey, unique and exciting intermission activity and endless fan interaction, presenting the most affordable, family-friendly way to enjoy sports and entertainment. Season, Partial Season and Flex Tickets are now on sale.  For more information, visit www.knoxvilleicebears.com or call (865) 525-7825.
-xxx-