Bid on Kenton's 2021 Game worn Jersey Here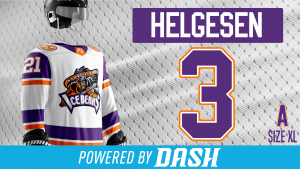 Player Profile: Kenton Helgesen dishes on KIB, DOY Award
After the COVID-19 pandemic resulted in 11 ECHL teams suspending operations for the 2020-21 season, a fair amount of league veterans found themselves looking for new places to play.
One of them was defenseman Kenton Helgesen, who played 19 games for Evansville in the SPHL the previous season, but had spent most of his first four years in the ECHL after a successful junior career in Calgary.
Helgesen's first season in Knoxville was a memorable one, anchoring the Ice Bears' blue line as the only defenseman on the team to play in 40 games and provided stability on the back end of a team that finished second in the league in goals against. His efforts led to him being named the league's Defenseman of the Year, joining Curtis Menzul (2005), Kevin Harris ('09) and Mark Van Vliet ('11 and '12) as Ice Bears to win the award.
Helgesen sat down with Ice Bears Director of Broadcasting Joel Silverberg to reflect on his first season in Knoxville, discuss his roots in the sport and more.
First off, congrats on the Defensive Player of the Year award. Were you expecting that? At what point during the season did you feel like that was a real possibility?
Thank you! Honestly, I didn't think too much about it. I know there's a lot of good players in the league. I was kind of caught off guard by it. I thought I played well and was a good player in the league, but I didn't really expect the award so it was pretty cool.
You all had a bunch of big moments during the season this year—your individual recognition, a franchise-record ten-game win streak, Peter Di Salvo breaking the all-time wins record—what was it like playing for this team this season?
It was pretty special. It was one of the coolest group of guys I've played with in my five years as a pro. We had a lot of fun moments. It was just a lot of fun this year.
How tough was it to lose that semifinal to Pensacola to end the season?
It was tough. I know we definitely thought we could've done a lot better than what we did based on the roster we had together and the year we were having. We've kind of moved on and we're getting ready for next year now.
I feel like every player has a different opinion on this, but did it make it any easier to swallow that Pensacola went on to win the President's Cup over Macon, or did that make it feel worse?
It makes it a little easier. It's kinda tough to say it could make it feel any better, but knowing we lost to the team that won makes it feel a little lighter, I guess.
I interviewed one or two of you before every game this season and "chemistry" was a word that was brought up a lot by multiple guys on the team. What was so special about this group of guys this year?
It definitely helped us that once we had a solid core put together, and obviously the first couple of months were a little bit of a whirlwind, but once we had our core put together, the guys got really close and that translated onto the ice.
Obviously, things can change between now and October, but when you look at the players listed on the protected list, how do you feel about Knoxville going into 2021?
If every player on that list were to come back, I think Knoxville's set up for a pretty good team next year. It's tough to say with a lot of time in between then, but if every guy were to come back, it's definitely a solid core group of guys there.
What was the conversation like with Jeff Carr to be put on that protected list? What's that process like when a coach is discussing with a player whether the player is coming back next season?
It was good. It's definitely a different conversation because I know every guy might have plans from going over to Europe to moving up in the league and basically he asked me if I was back in the league if I'd like to come to Knoxville and I told him "of course."
Are you planning on having any contact with ECHL teams this summer? With so many teams not playing hockey this past season, I'm sure there will be some openings with those teams returning.
Yeah, right now the goal is to get back up to the East Coast [Hockey League]. I've been in a little contact with teams, but I guess it's still early. I'm pretty sure guys don't start signing for another month or two. Once that time comes, we'll see what happens.
You spent some time with Evansville a couple years ago after a few seasons in the ECHL. How would you assess the progression of skill in the SPHL from the couple of seasons you've played in the league?
It definitely increased a lot. I think with COVID and half of the teams in our league not playing and half of the teams in the East Coast not playing, I think it definitely translated to an increase in skill and it was better hockey compared to last year. I think it was a lot of fun.
You ate up minutes on the ice this year. It seemed like you were handed a lot of shifts on a nightly basis. Do you feel like you got stronger this year just from the sheer amount of ice time? Was that a workload you were used to before?
Definitely. It was something going into the year that was kind of my goal was just to play as much as I can and help out the team in any way I can and if eating up minutes like that was helping our team then I was glad to do it. I definitely think it helped my game playing a lot. In the past I've had a lot of injuries and I was able to have a healthy season and play a lot out there so I think it helped me on the ice for sure.
Let's go back a couple decades and get into some origin stories. How did Kenton Helgesen get into hockey?
[Laughs] Oh, I was a young kid. I have an older brother who was playing hockey already. Growing up in Canada up north my dad would build a rink in our front yard so I actually got on skates for the first time out there at a young age. I think I might've been four or five when I first put on skates and I've loved it since then.
How did your dad build the rink?
A few buddies would come over and help him. It was mostly all wood boards. We'd have sheets we'd pile up on one side and cut them up right so hopefully not as many pucks would go over and then we'd have smaller pieces along the side. Then he'd bring in a water truck and obviously, it's cold enough so we'd just flood it with that. One of his buddies made a makeshift kind of Zamboni and so we would just shovel it and pull it by hand and that made for some pretty good ice so it was awesome.
Being in Alberta back then, was there a lot of frozen pond hockey happening around the neighborhood and is playing pickup hockey in Canada as common as playing pickup basketball in the south?
Definitely. As a kid in the winter with having the rink in the front yard, I was out there with my brothers and I'd have buddies come over daily if they could. My dad put floodlights out there so if it got dark we could still stay out there so it was awesome.
You played major junior hockey in the Western Hockey League with Calgary against a league full of NHL Draft prospects, including yourself. Who was the best teammate you had while in the WHL?
Probably one of my best buddies Alex Roach. Between him and Zane Jones. I played with lots of good guys and made a lot of good friends that to this day I still keep in contact with. I made a lot of lifelong friends playing in Calgary. I actually spent my summers here and fell in love with the city.
Who was the best player you played against?
That's tough. There's a lot of good players that come out of the league. I would say maybe (Vegas winger) Mark Stone or (Columbus defenseman) Seth Jones. (Buffalo centre) Sam Reinhart, too. Almost on every team you had guys that were pretty much NHL-ready. That was a lot of fun and I think it helped me develop my game as well.
What is that like seeing those guys now? With Mark Stone scoring a game-winning overtime goal in a playoff game just the other night—seeing those guys you played against make plays on the biggest stage in the sport. What's that like for you just thinking "I used to play in the same league as that guy"?
It's pretty crazy. Looking back, I didn't think much about it at the time, but now that I'm older, looking back, I was pretty fortunate to be able to play against those guys. Playing against guys like that night in and night out I think helped me take my game to the next level and I definitely learned a lot playing against them because they were pretty incredible players from day one.
You were drafted by Anaheim in 2012. After that, you played a couple more years of juniors before beginning your pro career. What is that process like to get drafted, then decide to keep playing juniors or turning pro?
I was fortunate I got drafted my first eligible year. At the time I kind of expected to get drafted, but the year prior that was not on the radar. I came into the Western League as a rookie that year and kind of started off as any young guy would—in and out of the lineup. Then injuries kind of happened and I got my opportunity and played really well and then eventually I was scouted and after that I was like "OK, this might actually be a real thing," and then sure enough, once the draft came I was selected by Anaheim. It was pretty incredible.
What was the process like from there?
Once drafted, I would go to a development camp in Anaheim every summer. That was cool just to get to know the organization and other players who were coming up, then I would go to training camp that following fall. Once you're drafted they have two years to sign you so I ended up playing the following two years and they have development guys who come watch you and give you tips on how to improve. Once I finished my 19-year-old year they offered me a contract. From there, they actually sent me back to juniors for one more year to continue to develop and once I aged out I turned pro after that.
Back to the present day. What does your offseason look like? Is there anything in particular you're trying to focus on from a strength and conditioning standpoint?
Just doing what I've been doing the past couple of years. I focus mainly this time of year on a lot of strength and do some cardio and try to get bigger and stronger. Once I get closer to the hockey season I turn it up and do a lot more from a cardio aspect and start skating as much as I can to prepare for the next season.
Are you back in Canada?
Yeah, I'm back in Calgary for the summer. I do my training here. There's a lot of good ice groups to skate with here. It's a good spot that gets me ready for the next year.
What would you say was your biggest takeaway from being in Knoxville this past season?
I didn't expect the city and the fan base—I played one game there as an opponent the previous year—I didn't realize how much of a hockey town it was and how great the organization is. I heard nothing but great things about it. I'm definitely grateful with my decision deciding to play there. It definitely helped me a lot on the ice and even off the ice. I made some lifelong friends so it was a good season, for sure.