For immediate release
For more information, contact: Joel Silverberg, Director of Broadcasting (865) 525-7825, joel@knoxvilleicebears.com.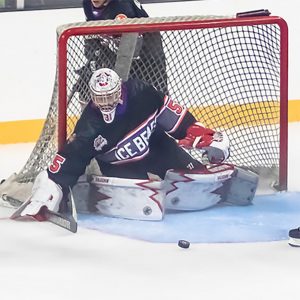 Ice Bears goaltender Evan Moyse has been called up to the Cleveland Monsters of the AHL, head coach Jeff Carr confirmed Monday afternoon. Moyse appeared in two games for Knoxville last week, stopping 41 saves on Thursday in a win over Huntsville and logging his first pro shutout a win over Pensacola on Saturday.
He has a 1.00 goals against average and a .969 save percentage since being acquired by Knoxville in a trade with Vermilion County.
Moyse is the second Knoxville goalie to be signed by an AHL team this season. Jimmy Poreda signed a PTO with the Syracuse Crunch in late December following a three-week stint with the ECHL's Worcester Railers.
The Ice Bears host Vermilion County on Saturday night at the Civic Coliseum at 7:35. Tickets are available by calling the front office at 525-7825 or visiting knoxvilleicebears.com.
ABOUT The Knoxville Ice Bears: The Knoxville Ice Bears organization began in 2002 and was an inaugural charter member of the Southern Professional Hockey League (SPHL) in 2004. As four-time SPHL Champions, the Ice Bears are an experienced and established organization, offering the city and its visitors a balanced product of highlight-reel hockey, unique and exciting intermission activity and endless fan interaction, presenting the most affordable, family-friendly way to enjoy sports and entertainment. Season, Partial Season and Flex Tickets are now on sale. For more information, visit www.knoxvilleicebears.com or call (865) 525-7825.
-xxx-