For immediate release
For more information, contact: Joel Silverberg, Director of Broadcasting (865) 525-7825,  joel@knoxvilleicebears.com.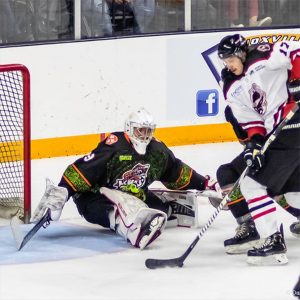 Ice Bears goalie Jimmy Poreda has been named the Warrior Hockey / SPHL Player of the Week for November 22-28, the Southern Professional Hockey League announced on Tuesday. Poreda posted back-to-back shutouts last week to help Knoxville to two wins over Birmingham.
The Buffalo native opened the week with a 36-save clean sheet against the Bulls on Wednesday in Knoxville's 5-0 win. It was Poreda's first career shutout. He followed up the performance with a 25-save effort on Friday, highlighted by three consecutive saves with the Ice Bears leading 1-0 in the third period. Knoxville held on for a 2-0 victory to claim its sixth consecutive win.
"An absolute circus act."

Our guy Jimmy Poreda with three of the biggest back-to-back(literally)-to-back saves of last night's win! pic.twitter.com/RgH1X6qjkg

— Knoxville Ice Bears (@icebears) November 27, 2021
The 25-year-old leads the league with a 1.52 goals against average and is second with a .946 save percentage. He's tied for third in the SPHL with eight wins and is 8-2-1 on the season.
Prior to Knoxville, Poreda played collegiately at SUNY-Plattsburgh, where he finished in the top ten in school history in saves, save percentage, goals against average and shutouts. After his senior season was canceled due to the COVID-19 pandemic, he played for Laser HT in Finland during the 2020-21 season.
The Ice Bears are on the road this weekend as they face the Bulls at the Pelham Civic Complex Friday night. Knoxville will then head to North Carolina to take on the Fayetteville Marksmen at Crown Coliseum Sunday afternoon.
ABOUT The Knoxville Ice Bears: The Knoxville Ice Bears organization began in 2002 and was an inaugural charter member of the Southern Professional Hockey League (SPHL) in 2004. As four-time SPHL Champions, the Ice Bears are an experienced and established organization, offering the city and its' visitors a balanced product of highlight-reel hockey, unique and exciting intermission activity and endless fan interaction, presenting the most affordable, family-friendly way to enjoy sports and entertainment. Season, Partial Season and Flex Tickets are now on sale.  For more information, visit www.knoxvilleicebears.com or call (865) 525-7825.
-xxx-