For immediate release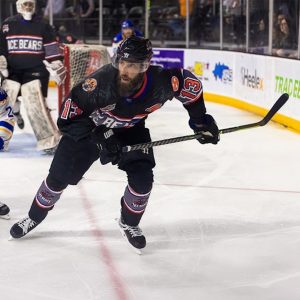 For more information, contact: Joel Silverberg, Director of Broadcasting (865) 525-7825, joel@knoxvilleicebears.com.
Knoxville defenseman Jason Price has been named the SPHL Defenseman of the Year, as voted on by a panel of league representatives. It's Price's first time winning the award after finishing as the runner-up for the honor in 2016.
Price becomes the fifth different Ice Bear to earn the nod and second in a row after Kenton Helgesen won it last year. Mark Van Vliet won the award in back-to-back years in 2011 and 2012. Kevin Harris took home the prize in 2009 and Curtis Menzul was Knoxville's first winner in 2005.
"It means a lot. A whole great deal," Price said. "I put a lot into this year to try to have a good season. It's special as a player. You strive to be the best out there and be everything you can be for your team and I felt I did a pretty good job of accomplishing that this year."
In his 14th professional season, Price scored 11 goals for Knoxville with 35 assists and a career-high 46 points, tied for the league lead among blue liners. He also led the SPHL with a +46 rating. He is the SPHL's highest scoring defenseman ever with 312 career points.
Price posted an 11-game point streak from Nov.
10-Dec. 11 and a 12-game stretch with at least a point per game from Feb. 11-Mar 17. He was also a key contributor on Knoxville's power play unit with 23 points on the man-advantage.
ABOUT The Knoxville Ice Bears: The Knoxville Ice Bears organization began in 2002 and was an inaugural charter member of the Southern Professional Hockey League (SPHL) in 2004. As four-time SPHL Champions, the Ice Bears are an experienced and established organization, offering the city and its visitors a balanced product of highlight-reel hockey, unique and exciting intermission activity and endless fan interaction, presenting the most affordable, family-friendly way to enjoy sports and entertainment. Season, Partial Season and Flex Tickets are now on sale. For more information, visit www.knoxvilleicebears.com or call (865) 525-7825.
-xxx-